COP-4 Minamata Convention agrees on effectiveness assessment points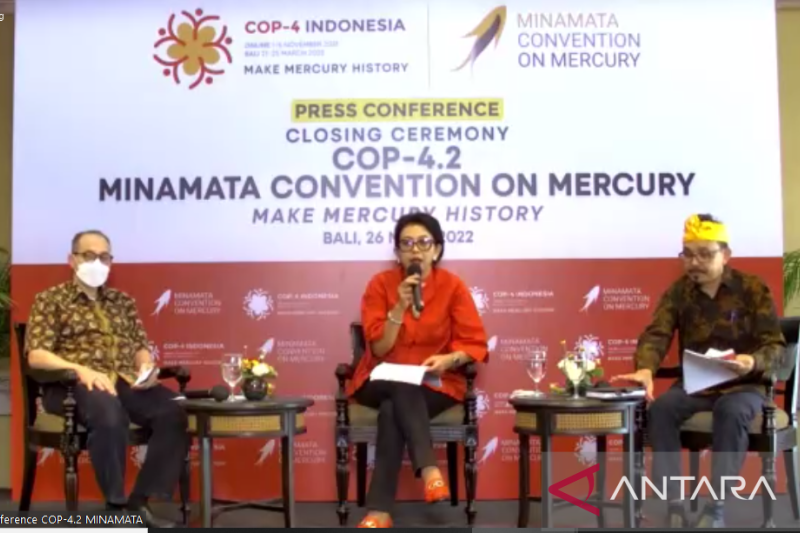 Jakarta (ANTARA) – The fourth meeting of the Conference of the Parties to the Minamata Convention on Mercury (COP-4) has agreed on aspects regarding the evaluation of effectiveness, including the formation of a scientific agency, has said Rosa Vivien Ratnawati, head of the Ministry of Environment and Forests.
"The effectiveness evaluation points have been agreed, although there are several aspects that need to be adjusted depending on the nation's contribution," she noted.
"There are difficulties when discussing issues, such as the number of experts that can be sent per region," Ratnawati remarked during the fourth meeting of the virtual press conference of the closing ceremony of the Conference. of Parties to the Minamata Convention on Mercury (COP-4.2) on Saturday. .
The effectiveness evaluation is a framework that determines the evaluation procedures towards the regulation of the Convention and the measures that nations take to achieve the objective of the Minamata Convention.
Several issues had been agreed regarding the effectiveness evaluation, including the operational process framework and agreement to form a scientific agency named the Open-Ended Scientific Group (OESG).
This is to ensure that the process can continue even if the advisory group has not been formed.
During COP-4, in addition to the effectiveness evaluation, a decision was also adopted regarding the amendment of attachments A and B on mercury-containing products and mercury-using processes.
It has been decided that 10 types of products contain mercury that can be phased out, Ratnawati explained.
However, the use of four types of mercury-containing products is expected to be considered at COP-5 in Genewa, Switzerland.
The Minamata Convention COP-4, held March 21-25 in Bali, also succeeded in unveiling the Bali Declaration to Prevent Illegal Mercury Trade.
With this non-binding declaration, it is expected that the issue of illegal trade in mercury can be mainstreamed, and it also encourages cooperation at bilateral, regional and multilateral levels.
Related news: Illegal mercury trade must be tackled quickly: Environment Minister
Related news: Indonesia's role and commitment in the Minamata Convention
Related News: COP-4 Minamata second phase scheduled for March 21-25 in Bali