UMaine Process Development Center Unveils New Renewable Packaging Research Capability – UMaine News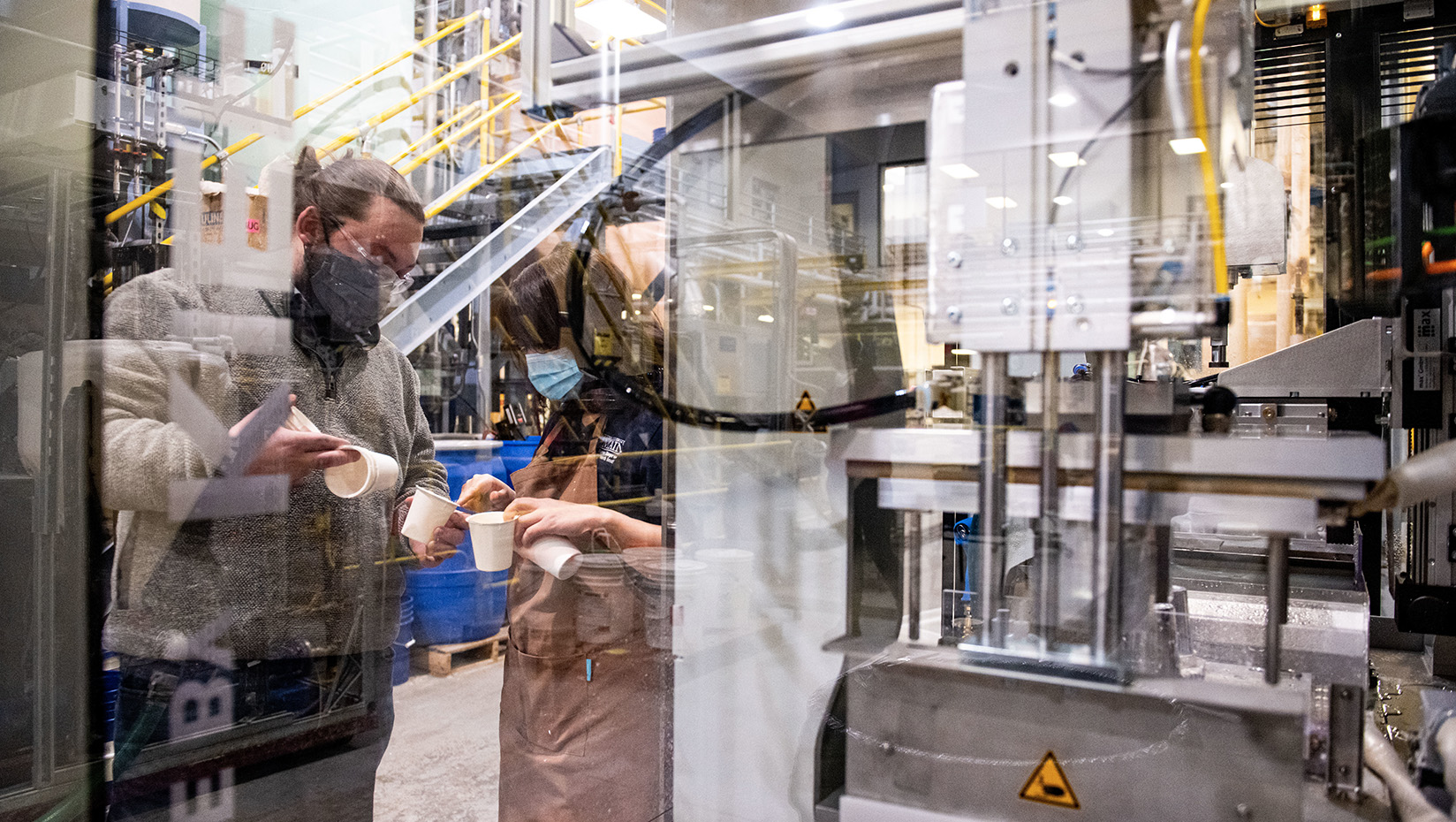 Partnership with Kiefel brings state-of-the-art fiber thermoforming machine to Orono
The University of Maine's Process Development Center (PDC), long recognized for its expertise in fiber processing for pulp and paper applications, now houses new equipment that will significantly advance renewable packaging research for Maine's forest products industry.
Kiefel – an international leader in thermoforming and joining technology that is part of the Brueckner Group based in Siegsdorf, Germany – has chosen UMaine as a key research partner to expand and accelerate its expertise in fiber thermoforming. Thermoforming is a manufacturing process, traditionally used with plastics, that uses heat and pressure to form sheets of material into three-dimensional objects using a mold. With Kiefel's fiber thermoforming machines, packaging can be made from natural fibers such as cellulose, straw or plants instead of plastic.
Over the past three years, the company has developed its NATUREFORMER KFT series of machines to produce thermoformed packaging products based on natural plant fibers. UMaine is the first university in the United States to receive one of the renewable packaging R&D machines.
"Kiefel and Brueckner have a long history of working with educational institutions and we see these partnerships as essential to innovation," said Matthias Sieverding, President and CEO of Brueckner Group USA, headquartered in Portsmouth. , NH "In recent years, Kiefel has invested significantly in the development of fiber thermoforming and we sought to work with UMaine because of their expertise in fiber processing and leadership in research and development. of the wood-based bioeconomy.We are particularly excited to see how UMaine researchers could use nanocellulose to optimize the barrier properties of thermoformed fiber and help improve product quality.
PDC's NATUREFORMER KFT Lab machine is a smaller version of the commercially available Kiefel units and is specifically designed for R&D and product development.
"This partnership is important to both UMaine and the State of Maine," said PDC Director Colleen Walker. "With Kiefel's NATUREFORMER, our researchers can explore new, value-added uses of Maine wood fiber in sustainable packaging applications and PDC will contribute significantly to the growth of fiber thermoforming knowledge in Maine." and beyond. We are honored to have been chosen as Kiefel's first academic partner in the United States and look forward to working closely with the company to advance knowledge and support innovation.
A recently announced amount of $361,651 award from the Northern Border Regional Commission (NBRC) will enable UMaine to establish a wood fiber thermoforming knowledge center at PDC with Kiefel's NATUREFORMER machine as its centerpiece. Access to this equipment will provide researchers and PDC industry customers with expanded opportunities for experimentation and new discoveries, and will add to the R&D capabilities available through UMaine. Forest Bioproducts Research Institute.
"Maine's flagship research university is driving a range of bio-based materials innovations that hold tremendous potential to grow Maine's forest products industry and this award will help build new capabilities in the sustainable and advanced manufacturing," said Heather Johnson, commissioner of Maine's Department of Economic and Community Development.
Contact: Ashley Forbes, [email protected]